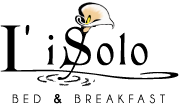 If a good start to the day comes with an early rise, then breakfast at the Isolo is always a good start to the day.
You will understand what we mean as soon as your sleepy eyes fall upon cakes, fruit, croissants, cold meats and cheeses, typical delights of the Mantua and Verona area, because the Morainic area is spread across two regions with different culinary traditions.
There are two breakfast rooms. The one indoors where the agricultural tradition meets with design, and the outdoor natural one in the beautiful setting of the Mincio Park.